A growing number of Hoosier manufacturers are embracing advanced technology to improve productivity and profits, but companies say choosing the right technology and implementing it can be a challenge.
Industry 4.0 is a hot topic in the manufacturing industry. The term means integrating data analysis, cobots, 3D printing, and other technologies into the manufacturing process, and the concept is rapidly spreading among manufacturers in Indiana.
According to a survey released last week by Indianapolis-based Conexus Indiana and Indiana University's Kelley School of Business at IUPUI, 27% of Indiana manufacturers say they have implemented one or more technologies. advances in their operations. Another 16% say they are currently piloting a technology.
That's a big jump from last year's survey, when those percentages were 15% and 6% respectively, and when many respondents said they hadn't even heard of the term Industry 4.0. , said Mitch Landess, vice president of innovation and digital transformation at Conexus. .
The 2021 survey included responses collected in March and April from 135 manufacturers in Indiana. The 2020 survey was based on responses from 110 companies in February and March of the same year.
"Things have definitely changed over the past year or so," Landess said. "Industry 4.0 really continues to accelerate. "
One of the other key points of the survey: Manufacturers have a large number of potential technologies to choose from, and some are gaining popularity than others.
"Not everything will suit all industries. But the reality is you have to look at them all because, if you aren't, your competition is, "said Bob Markley, executive vice president of Addman Engineering.
Addman uses additive manufacturing, or 3D printing, to make metal and polymer parts and tools. The company is based in a suburb of Fort Myers, Florida, and has its production facility in Westfield.
Addman received a $ 150,000 Manufacturing Readiness Grant this fall and used the money to purchase a 3D printer that produces metal parts. The printer has performed so well that Addman is considering purchasing two more.
The company also invested in a laser scanner capable of reverse engineering parts and keeping data in a digital "warehouse". The data can then be retrieved to produce an on-demand part.
Markley said Addman is also in the process of implementing machine sensors that can collect data and collect it from a central source for machine maintenance. The company is working to create a fully digital, paperless production system.
What to buy
Indianapolis-based IMH Products, which manufactures, stamps and machines metals, recently invested in a few technologies. One is new software that allows the company to determine the most efficient way to produce a batch of parts with the least amount of waste.
IMH President Eric Odmark said the software has been a great success, resulting in an average 6-7% reduction in material costs as parts can now be produced with less scrap. The company is expected to see a six-figure return on its investment in a few months.
But Odmark said the company did a lot of research before investing in the software, researching proposals from potential vendors and performing on-site testing and simulations. The company also turned to professional organizations for advice.
"You can't really afford to go wrong," Odmark said. "It's a difficult balancing act, trying to find the right things."
The main criteria for IMH, he said, is that the technology must integrate with the company's existing systems and that it must be easy to train employees in its use.
IMH currently has around 180 employees, up from around 100 a year ago, and one of its biggest challenges is finding enough employees ready to acquire the necessary technical skills.
IMH also bought its first cobot this year, a programmable robot that can be used for small batch welding jobs. The company's traditional robots aren't as easy to reuse for different tasks, which means it isn't economical to reprogram them for low-volume jobs.
Odmark said IMH actually looked at cobots a few years ago, but the technology was not as advanced as it is now and cobots were much less user-friendly. Recent advances have made this year seem like a good time to invest.
"Huge dividends"
Columbus-based Precise Tooling Solutions Inc., which makes molds for plastic injection parts, has had success with machine monitoring technology it added late last year.
The technology can sense when a machine is actively in use and when it is idle, giving the business data it can use to minimize downtime.
"It has paid huge dividends," said CEO and company owner Don Dumoulin.
When installing the sensors, said Dumoulin, Precise Tooling learned that their cutting machines were only used about 20 percent of the time. At other times, operators can load materials into the machine or change its settings for the next job; or they could be inactive because their next workload had not arrived.
Using the data from the sensors, the company was able to improve its efficiency, so that machines are now used about 40% of the time.
The sensors aren't new technology, but they were too expensive to consider until the price dropped recently, Dumoulin said. He said the company is also considering adding cobots at some point.
While reviewing his technology options, Dumoulin said he contacted the Manufacturing Extension Partnership at Purdue University, an organization on which he serves on the advisory board.
MEP operates a technology center in Carmel where companies can learn about various technologies. It also offers free on-site assessments for manufacturers who need advice on technology adoption.
"We have seen a resurgence of interest in these advanced technologies," said Bob Goosen, associate director of engineering and technology services at MEP. "Over the past nine months we've probably seen the number of support requests double.
The current labor shortage is probably the source of this heightened interest, Goosen said.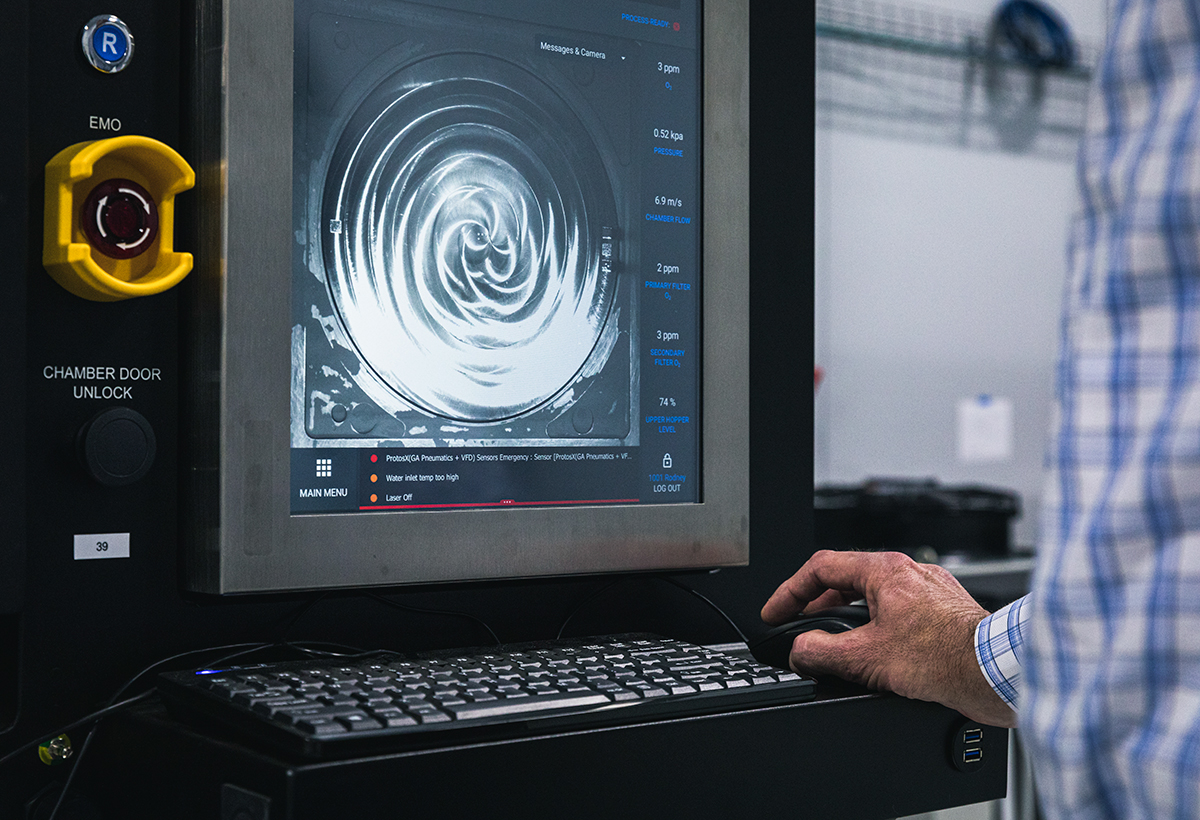 Usefulness
Cobots and 3D printing are two examples of advanced technologies that are increasingly accepted, according to the Conexus / Kelley School survey.
In this year's survey, 22% of people said they use cobots and find them useful, up from just 6% a year ago. And 39% of people polled this year said they use 3D printing and find it useful, up from 24% last year.
On the other side of the spectrum, virtual reality / augmented reality is an example of technology that hasn't made its way into manufacturing. Only 5% of those surveyed said they used the technology and found it useful, while 32% said they had tried it but did not find it useful.
It is, however, too early to say for sure which technologies will end up being useful in manufacturing, said Mark Frohlich, associate professor of operations management and director of the Center for Excellence in Manufacturing at IUPUI's Kelley School.
"Industry 4.0 as a revolution will probably unfold over 20 years," Frohlich said.
It may take some time before a technology's usefulness becomes apparent, he said, citing barcode technology as an example. The barcode is now a standard tool for tracking inventory in manufacturing and logistics, but the early technology was clunky and didn't catch on right away.
"I remember when the barcode first came out and people were like, 'Why would I waste my time with this nonsense?' Frohlich remembers.
But as a technology improves and more and more people implement it, they often begin to see how it could be useful, either on its own or in relation to another technology.
As an example, said Landess of Conexus, industrial robots have been around for decades. Over time, people saw the opportunity to make robots safer and easier to program, and the concept of the cobot was born.
"Once you reach a certain critical mass of use, innovation happens," he said.